EenEchteGuido/ARealGuido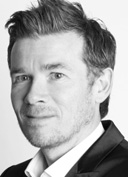 Artist Guido Vermetten has a different view on things. Little goes according to the standard pattern. His motivation is to be suprising, be inspiring.Guido (46) lives in Chaam with Nadine Gooijers and son Laurens, works as an accountant and teacher. Next to being an artist he is also an entrepeneur. This creates many beautiful new connections. It's all in the mix!
It is Guido's goal to make modern art more accessible for a larger audience. With his label "EenEchteGuido" (A Real Guido) he customizes abstract art for your house, office, company or organisation. One hundred percent exclusive and personal. A piece of art that fits you in colours and size. For an impression, take a look in this webshop. The shown pieces are for sale or can be seen as an inspiration and have your own piece created similarly. Getting into touch with Guido is easy through the links in the webshop or use the "contact" button on the left.
Guido prefers to work with large canvases, starting from 1 x 1 meter, preferably with alkyd paint on linen with a solid aluminum frame.
Guido's style is progressive, bold and always of high quality. One recognizes this in his many daring and colourful paintings and also in his company www.doorzicht.nu in the countryside of Chaam. In this trendy inspirationroom (f.e. conference location) and furnished lofts many guests from home and abroad are welcomed to stay. Guido's work is partly shown in Doorzicht.
Interested? Follow @EenEchteGuido on Facebook and Twitter!